Car Parking
Wells Fargo Center features below ground climate controlled private contract parking, directly accessible from the main lobby. There are also three hourly ramps available for transient parking within a one-block radius.
Bicycle Parking
Wells Fargo Center also offers complimentary bicycle parking, located on Lower Level One, to tenants within the building.
Please familiarize yourself with the proper access procedures into the Wells Fargo Center parking ramp. To access the parking area, enter from 7th Street via the ramp entrance located slightly passed Marquette Avenue.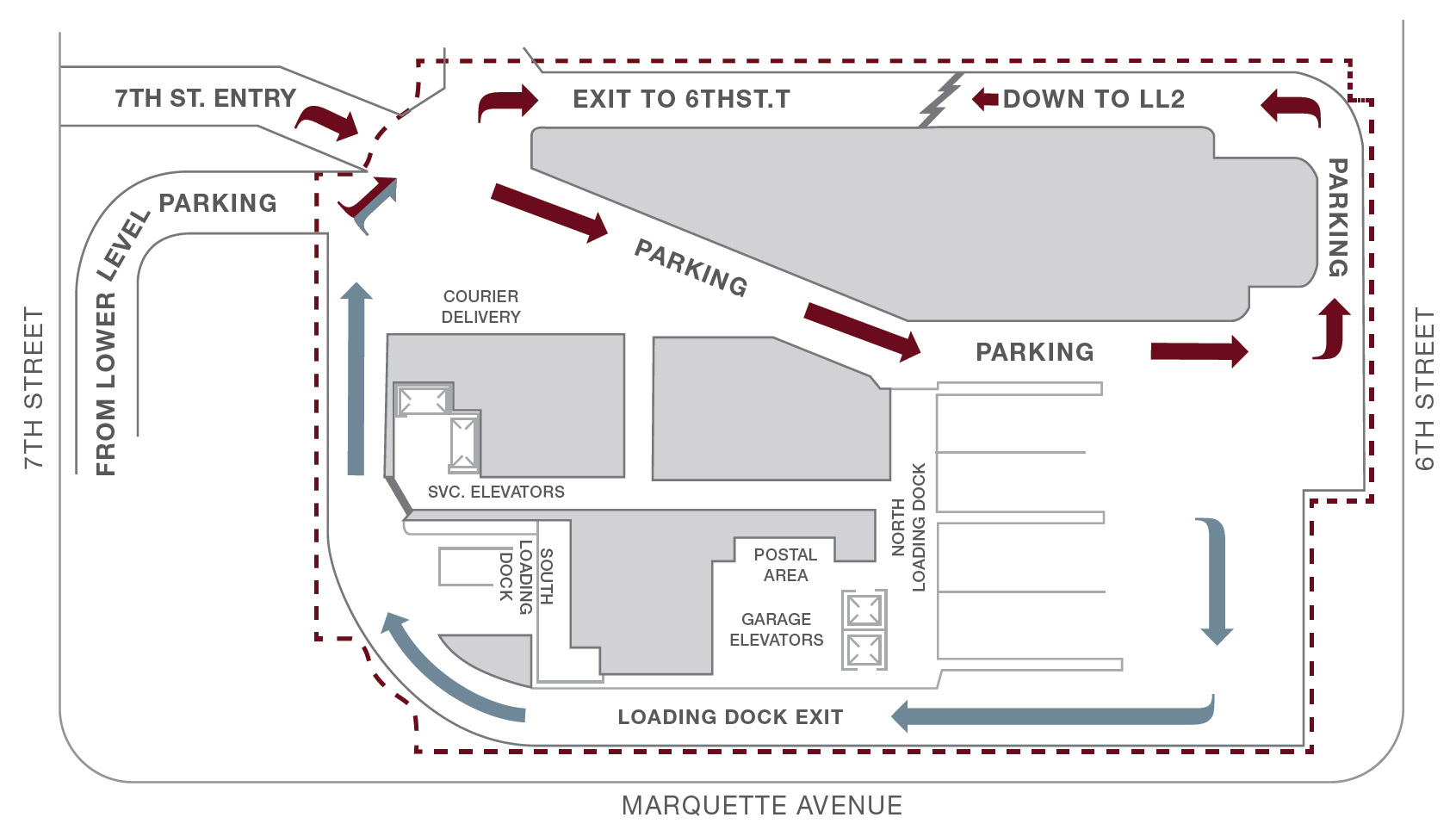 The Wells Fargo Center parking ramp is secured 24 hours. Should you need assistance at any time, security is available via intercoms stationed at the 7th Street entrance ramp, Contract Parking entrance gate arm and Contract Parking exit gate arm. NOTE: The door will only allow one (1) vehicle to enter at a time.
There is a five-way intersection at the base of the entry ramp. Proceed forward cautiously, pass the loading dock, and turn left. Pause at the parking gate as the reader simultaneously opens the gate. Parking is available on the lower levels two through four. Signs indicate parking, elevator lobbies and exiting. To exit the ramp, follow the exit signs and card access procedures similar to those used for entry. As you follow the exit ramp from lower level two up to lower level one, proceed forward and pause at the exit parking gate while arm rises. Once again, proceed cautiously through the five-way intersection toward 6th Street. You will encounter another roll up door that will open automatically.
The parking garage exits to street level on 6th Street.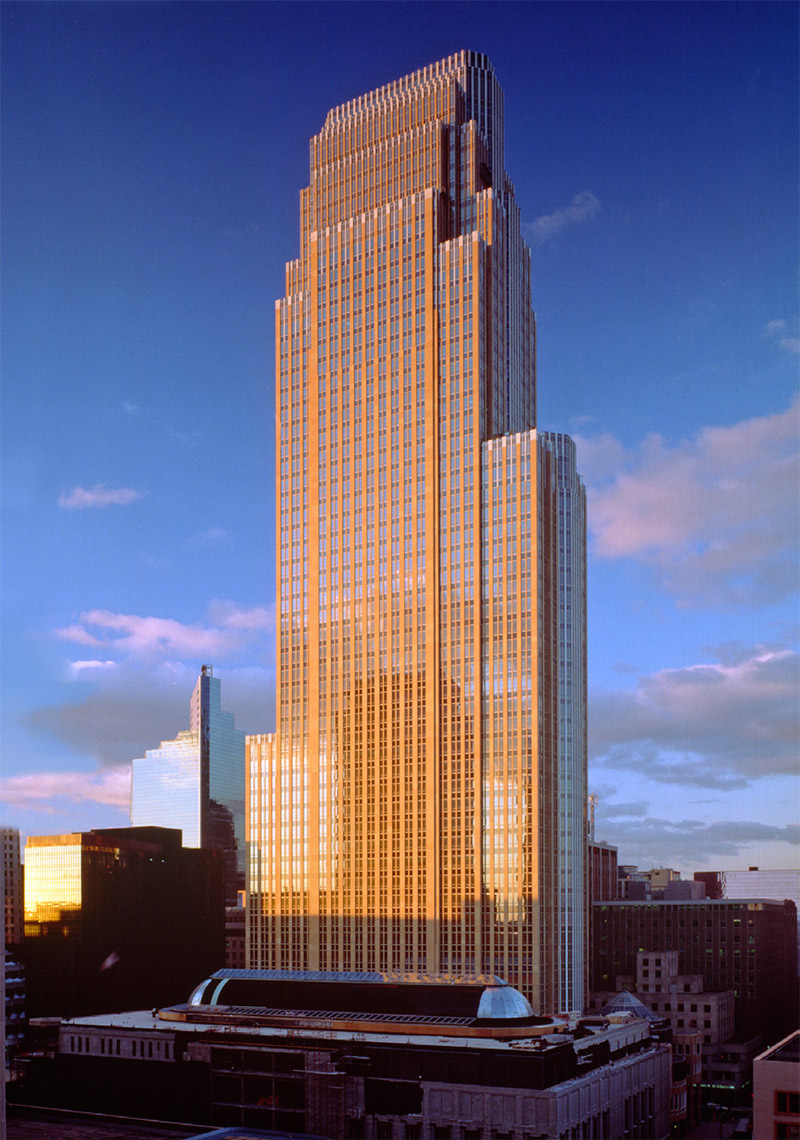 Elevator Lobby Access
Access into the elevator lobbies from the parking area on lower levels two through four does not require your access card (i.e. your building access/photo identification card). Exiting from the lobby into the parking area requires use of your access card. An intercom system is available in each garage elevator lobby should you need assistance.
Hands-Free Parking Card
Place the suction cup side of the round parking transponder against the interior of the windshield. We recommend to place the parking transponder along the base of the windshield on the driver's side.
Contact Information
It is your responsibility to notify the person at your company responsible for parking or to notify Hines directly when a change is made regarding the make, model or license number of the vehicle driven. In the event of an emergency, Hines must have the ability to identify monthly parkers through current information.
Wells Fargo Center is pleased to offer an electronic and durable goods recycling program available to all building tenants through Recycle Technologies. Dry batteries can be recycled in the receptacle next to the mail room on LL1.
Electronic office equipment such as computers, monitors, printers, fax machines, copiers, servers, storage hardware, routers and other network hardware can be disposed of for a nominal fee.
Recycle Technologies will also physically destroy hard drives, tape media, CDs, DVDs, etc. and issue "certificates of destruction" for a nominal fee.
For the above services, please contact Recycle Technologies at: (763) 559-5130 or online at http://www.recycletechnologies.com
Wells Fargo Center has been an ENERGY STAR® Rated building for 22 years
ENERGY STAR is a U.S. Environmental Protection Agency (EPA) voluntary program that helps businesses and individuals save money and protect our climate through superior energy efficiency.
Under EPA's leadership, American consumers, businesses, and organizations have made investments in energy efficiency that are transforming the market for efficient products and practices, creating jobs, and stimulating the economy.
Click here to view Wells Fargo Center's ENERGY STAR building profile.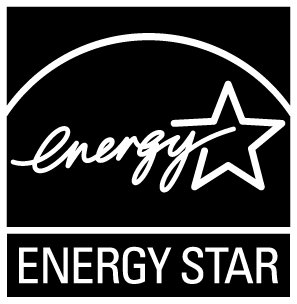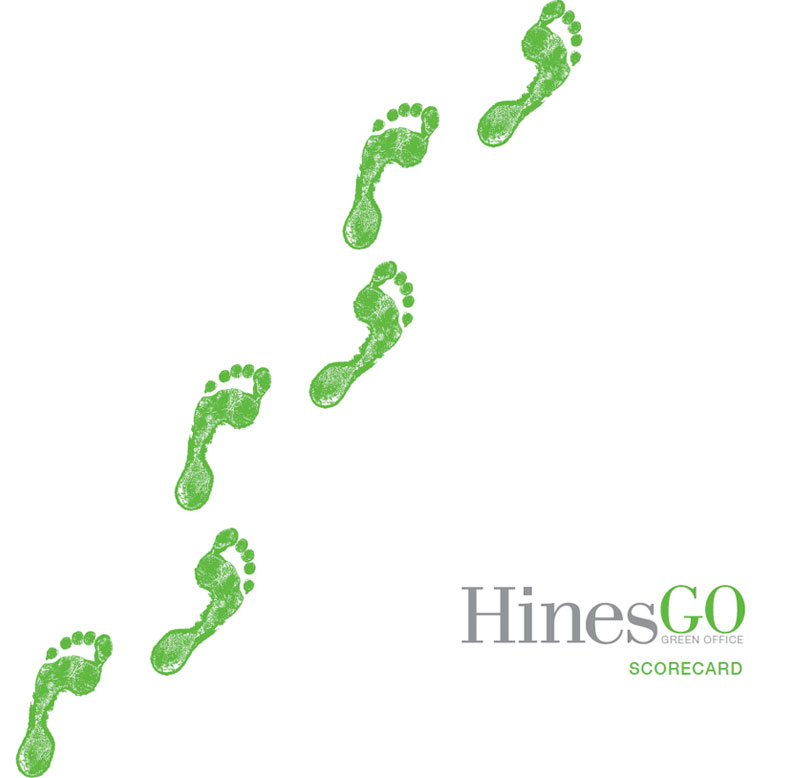 This is a voluntary initiative adapted for Hines tenant spaces that measures and rewards the "greening" efforts in your lease space.
The program will help you identify and implement no-cost and low-cost alternatives to operating in a standard indoor office environment. Scored on a scale of 100, you can evaluate your space in seven categories. When a specific strategy or improvement has been implemented from those categories, "Leaf Credits" are earned, which are weighted differently according to their relative sustainable value. If your office achieves 70 Leaf Credits and submits the attached form, it is then designated as a GREEN OFFICE.
We encourage you to establish a "green team" to conduct cost-benefit analyses for opportunities that require a nominal cost to achieve a credit. Then a plan can be created for implementing those opportunities and measuring the results with an overriding goal of reducing our collective environmental footprint and energy consumption.
As always, feel free to contact Hines Property Management or engineering if we can assist you with anything, and we look forward to hearing about your sustainability achievements.
Wells Fargo Center achieved LEED® Gold Certification under the U.S. Green Building Council's rating system in 2018 and recently in 2022. Hines is continually undertaking sustainability measures to reduce the environmental impact of the building including the installation of low-flow water fixtures; installation of high-efficiency motors and variable frequency drives; installation of lighting occupancy sensors in restrooms; ongoing building waste diversion rate of 69 percent; a green cleaning program; and Hines' GREEN OFFICE for Tenants program, designed to enhance tenant space.
The following Environmentally Preferable Purchasing Policy (EPP Policy) considers not only the requirements of the credit, but the financial opportunities that may result from sustainable purchases. For example:
Lamps with less mercury may last longer than similar products, thereby requiring less manpower because of the infrequency with which they will need to be changed
Having ceiling tiles and carpet deconstructed and sent to the original manufacturer for recycling instead of to landfill
Energy Star appliances, while more expensive on the front end, inherently have life cycle savings
The increasing cost of petroleum makes replacing gas-powered equipment with alternate fuels a logical choice
The increasing cost of petroleum and shipping costs makes local furniture a more attractive option
The building is also in the process of implementing other sustainable purchasing policies for Cleaning Products, which are outlined under the Hines Green Cleaning Policy.
Security is on duty twenty-four hours (24) per day. Wells Fargo Center is open weekdays from 6:30 a.m. to 6:00 p.m. After-hours access is restricted to tenants with access cards; visitors after-hours can easily be accommodated by advising the Hines office of their anticipated arrival.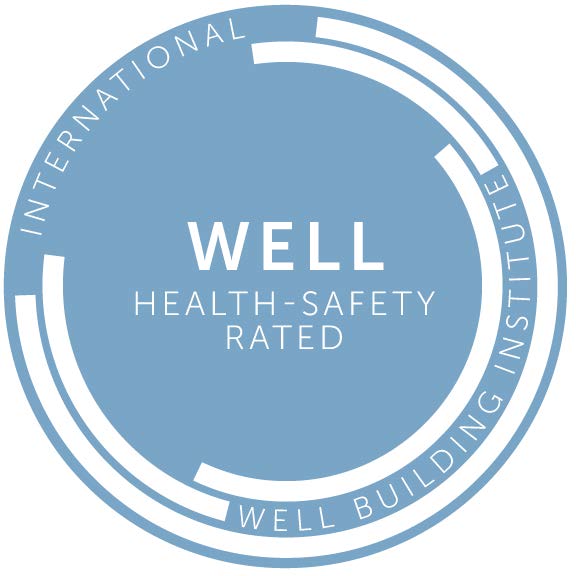 Wells Fargo Center is currently a WELL Health-Safety Rated building for facility operations. WELL is a third party verified rating for all facility type, focused on operation polices, maintenance protocols and stakeholder education to address a post COVID-19 environment now and in the future. Our priority is to address the following health and safety issues:
Keeping things clean and sanitized
Providing essential health services
Communicating health and safety efforts
Emergency preparedness
Monitoring air and water quality